Middle-order is a soul of your batting unit, especially in white-ball cricket. Ask Team India. The teams' inability to find a solid middle-order batsman in the past four years ultimately came back to haunt on them on the day of the knockout of a World Cup. So, as we lament on what could have been, let us go back in time when two youngsters rose like a phoenix at the time of adversity to give Indian cricket their most cherished victory and off-course their most iconic image of all time- Ganguly twirling his shirt at the Lord's balcony [we'll come back to that later].

13th July 2002. India vs England. Natwest Trophy Final.
So, why is the Natwest Trophy so important that whenever we talk about India's greatest limited-overs achievements? It was after all just a tri-nation series and not a World Cup or the Champions Trophy.
Then, why is it so special?
Here's why.
The Backdrop

ImageSource@AFP

To really understand the emotion behind Sourav Ganguly removing his shirt on the Lord's balcony after India's historic win in the Natwest Trophy final, we will have to go back to the January of 2002 when England was touring India for a six-match series.
India was leading 3-2 going into the sixth ODI at the Wankhede Stadium and it all boiled down to them requiring 6 off the last two balls to take the rubber 4-2. But Andrew Flintoff had other ideas. The all-rounder clean bowled Javagal Srinath to shatter India's hopes and then proceeded to take off his shirt in front of a disappointed Wankhede crowd.
The youngsters coming to the fore- A sign of a New India

ImageSource@Getty
If you had grown up watching cricket in the 90s, a sense of hopelessness would have engulfed you every time Tendulkar would get out. Tendulkar getting out was almost synonymous to the fans switching off their television sets. So, when Sachin was bowled with the score reading at 5-146 (chasing 326), all of India including Mohammad Kaif's parents themselves had lost hope. In fact, as he would later reveal Kaif's parents had gone to watch a Bollywood movie called 'Devdas' after Tendulkar had got out.
No one expected a miracle. For, miracles and fairytales seldom happen in sports. But, two young men had different ideas. As is it rightly said, someone's misery is another person's opportunity. Kaif and Yuvraj stiched a defiant 121-run stand for the sixth wicket to script India's revival and bring the visitors on the brink of a famous win. Yuvraj fell for 69, top-edging one straight to short fine-leg.
But Kaif carried on, with the tail, remaining unbeaten on 87 to take the side home in dramatic fashion in the last over. In coming years, Kaif along with Yuvraj and Dravid would stitch many more matchwinning partnerships for Team India, showing the world the team was more than just about Tendulkar and the progress that Indian cricket had made under Ganguly.
Dada twirling his shirt at Lord's in a fitting response to Flintoff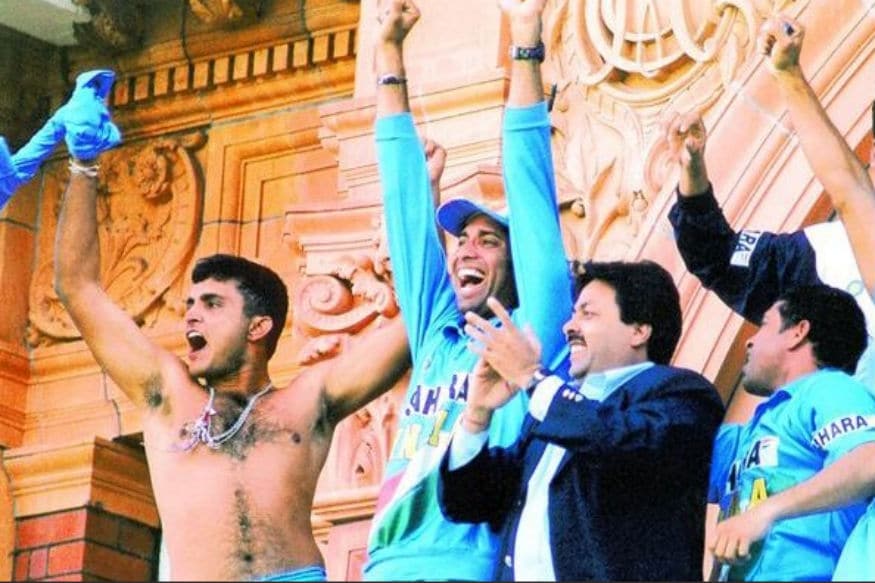 ImageSource@Getty
Sourav Ganguly had taken over the reins when Indian cricket was in shambles. The match-fixing scandal had rocked Indian cricket to its core. Indian cricket needed to reset itself from the mess and try to regain the trust of their fans who were still reeling from the trauma of the match-fixing scandal that had put a blot on their beloved game.
Ganguly built the side from scratch. One of Ganguly's greatest quality as a leader was how he spotted young talent and backed them to express themselves on the International stage without having to fear for their spot in the side.
Consequently, the likes of Virender Sehwag, Yuvraj Singh, Zaheer Khan, Harbhajan Singh, Mohammad Kaif and Ashish Nehra were blooded in the Indian set-up and with the rightful mix of youngsters and senior players that included Sachin Tendulkar, Rahul Dravid, and Anil Kumble, Ganguly formed a core that ultimately went on to win the 2011 World Cup under Dhoni.
But Ganguly wasn't lucky when it came to winning trophies in multi-nation tournaments. He had been robbed by Chris Cairns brilliance in the 2000 ICC knockout finals, scarred by Jayasuriya's career best of 189 and the subsequent mailing of his batting unit for a shambolic 54 all out, losing five finals in a row. So, when Ganguly twirled his shirt at the Lord's balcony after India pulled off the memorable run-chase, it was not only an expression of redemption for what Flintoff had done at the Wankhede, it was also a sign of relief of finally ending on a winning note in a big final.