ImageSource@Getty
Legendary Indian batsman Sachin Tendulkar became the sixth Indian to be inducted in the ICC Hall of Fame on Thursday night alongside former South African fast bowler Alan Donald and two-time Women World Cup-winning Australian cricketer Cathryn Fitzpatrick.
"It is an honor to be inducted into the ICC Cricket Hall of Fame, which cherishes the contribution of cricketers over generations. They have all contributed to the growth and popularity of the game and I am happy to have done my bit," Tendulkar said at the induction ceremony held on Thursday night.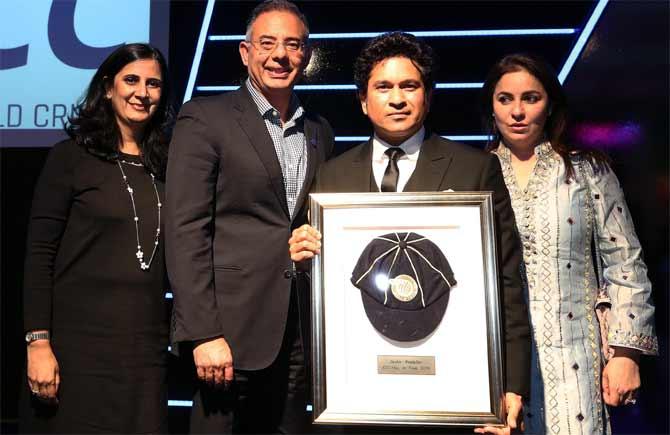 ImageSource@ICC
Tendulkar also took his time to thank his family and coach members who played an instrumental part at various stages of his 24-year-old career.
"On this occasion, I would like to thank all of those who were by my side over a long international career. My parents, brother Ajit and wife Anjali have been pillars of strength while I was lucky to have someone like coach Ramakant Achrekar as an early guide and mentor" the Little champion said.
Tendulkar, who broke nearly every batting record in the book- from most ODI & Test runs to most appearances and the most number of hundreds- is now the sixth Indian when it comes to the ICC Hall of Fame. He joins the esteemed list of Bishan Singh Bedi [2009], Kapil Dev [2009], Sunil Gavaskar [2009], Anil Kumble [2015] and Rahul Dravid, who was inducted last year.

As per the rules of the ICC, a cricketer can only be inducted in the Hall of Fame after the expiry of the mandatory period of 5 years since his international retirement. Like Rahul Dravid (retired in 2012), who was inducted straightaway after the mandatory five-year-period expired, Tendulkar (retired in 2013) to has been inducted soon after the aforementioned period lapsed in 2018.