The Big Picture
ImageCredit- Getty
After the ignominy of the first ODI where the top-order fell away in a jiffy, Virat Kohli [104] and MS Dhoni [55*] spearheaded India's run-chase of 299 to force a series decider at the Melbourne Cricket Ground.
After Australia had set a target of 299 thanks to a pristine 131 by Shaun Marsh and a valiant cameo by Glenn Maxwell [48], Shikhar Dhawan [32] got India off a whirlwind start, stroking a brisk 32 off 28 balls before holing out to Behrendroff. Rohit Sharma looked prime for yet another hundred, unleashing his shots before mistiming one off Marcus Stoinis. Ambati Rayudu looked scratchy during his 36-ball-24 and when he got out in trying to up the ante, India's hopes were primed on their talisman in Virat Kohli and veteran MS Dhoni.
Kohli tried to up the ante during the initial stages of their 82-run stand, allowing Dhoni ample time to get himself in. The highlight of Kohli-Dhoni partnership, as it has always been, was their ability to squeeze in 1s and 2s which did not allow the run-rate pressure to get to them. Kohli brought up his 39th ODI ton- 24th in a run-chase, but when he uncharacteristically holed out at deep square-leg, India still needed 55 off the last six overs. But, the clam heads of Dhoni and Dinesh Karthik, who stroked a 14-ball-25, took India home with Dhoni finishing it off with his trademark six in the last over.
Here are all the numbers from India's win at the Adelaide Oval-
2nd- India's successful pursuit of 299 was the second highest run-chase at the Adelaide Oval.
Highest targets chased down at the Adelaide Oval-

303 by Sri Lanka vs England, 1999
299* by India vs Australia, 2019
297 by New Zealand vs England, 1983
272 by Sri Lanka vs Austrlia, 2012
270 by India vs Australia, 2012
4- All of Shaun Marsh's last four ODI hundreds have resulted in a loss for Australia.
Shaun Marsh last four ODI tons:-

131 vs England, Cardiff [Lost by 38 runs]
101 vs England, Durham [Lost by six wickets]
106 vs South Africa, Hobart [Lost by 40 runs]
131 vs India, Adelaide [Lost by six wickets]
11- Kohli's 104 at the Adelaide Oval was his eleventh hundred across formats in Australia.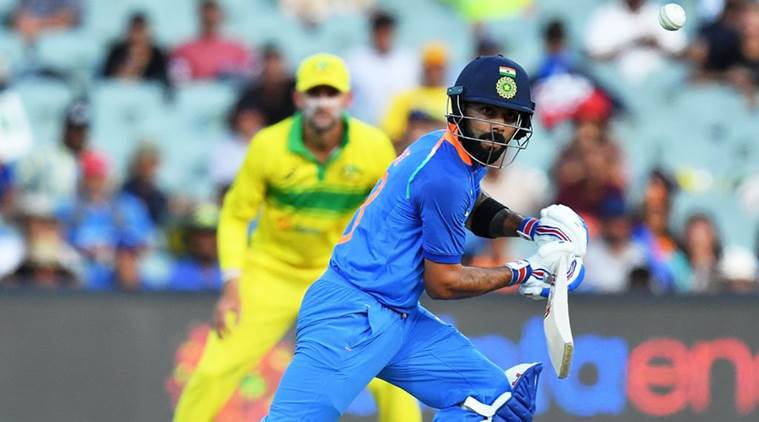 ImageSource@Getty
Most 100s by a visiting batsmen in Australia-


Virat Kohli- 11
David Gower- 9
Jack Hobbs- 9
Brian Lara- 8
Wally Hammond, Viv Richards, VVS Laxman & Sachin Tendulkar- 7
13- This was Virat Kohli's 13th ODI hundred since the start of 2017, closely followed by Rohit Sharma at 12. No other batsman has scored more than six in this time period.
89- Rohit Sharma, in his innings of 43, stroked his 89th six against Australia, overhauling Chris Gayle's record [88 vs England] for the most number of sixes against a single opposition.
4th- Rohit Sharma and Shikhar Dhawan, during their 47-run opening stand became the fourth opening pair to rack up more than 4,000 ODI runs between them.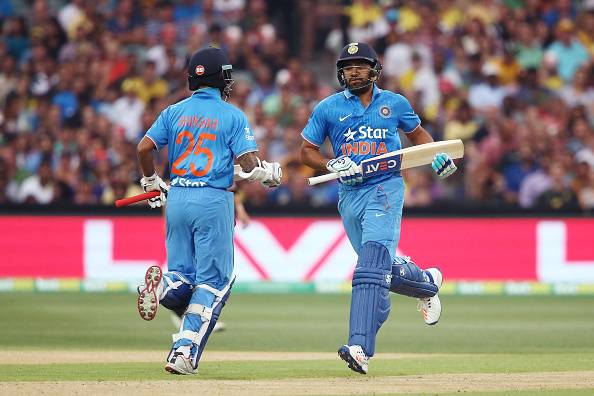 ImageSource@AFP
Most Prolific opening pairs in ODIs-

Ganguly/Tendulkar - [6609 runs (136) at 49.32]
Gilchrist/Hayden- [5372 runs (114) at 48.49]
Greenidge/Haynes- [5150 runs (102) at 52.55]
Dhawan/Rohit- [4040 runs (90) at 45.39]
24- This was Virat Kohli's 24th ODI hundred in a run-chase, out of which 21 have resulted in a win. In successful run-chases, Kohli averages a Brobdingnagian 99.04.
99.85- Speaking of successful run-chases, MS Dhoni squashed aside all his detractors with a calculated inning of 55 not out to steer his side home. Dhoni now averages a barely believable 99.85 in successful run-chases- the most by a batsman in the history of the game.
64- His 104 at the Adelaide Oval was Virat Kohli's 64 International ton across the three formats of the game.
Most 100s in International Cricket-

Sachin Tendulkar- 100
Ricky Ponting- 71
VIRAT KOHLI- 64*
Kumar Sangakkara- 63
31- Predictably, Kohli the Man of the Match award for his stupendous ton. He is now level with Sourav Ganguly for the second most 'Player of the Match' awards for India.
Most 'Player of the Match' awards for India-

Sachin Tendulkar- 62
Kohli/Ganguly- 31
4- Only four of the fifteen hundreds by an Indian batsman against Australia Down Under have ended in a win.
100s by an Indian that ended in a winning cause-

VVS Laxman- Brisbane, 2004

Sachin Tendulkar- Sydney, 2008

Manish Pandey- Sydney- 2016

Virat Kohli- Adelaide Oval- 2019