ImageSource@Getty
8-3.
India will have history and the recent resurgence [10 wins on the trot] of the Aussies to contend with as they gear up for their blockbuster World Cup clash at The Oval on Sunday. This will be the 12th World Cup encounter between both sides'- the most between any two sides in tournaments' history. No side has played more World Cup games against each other than India and Australia; not Pakistan and West Indies or New Zealand and Sri Lanka, who featured in their 11th encounter earlier in the tournament.
And, if you look at the scoreline- 8-3 in favor of Australia- you'd realize how lopsided the rivalry has been in the past. You'd be generous to even call it a rivalry- for that suggests that both sides' have enjoyed periods of dominance over the other, but India vs Australia, despite its lopsided nature, is one of the storied contests in World Cup history. The teams' have played each other at virtually every stage of the tournament. They've gone into World Cup finals [2003], semi-finals [2015], quarter-finals, virtual quarter-final [1983 & 1999], two nerve-breaking last-ball janglers [1987 & 1992].
And, it has given us a plethora of moments to savor for a lifetime.
ImageSource@Indiatimes
There was Kapil Dev's magical spell in 1983, Azhar's finest hour as an all-rounder in 1987, Mark Waugh's artistic annihilation of India in 1996 and 1999; Tendulkar's lone-battle in 1996; McGrath's brilliance in 1999 & 2003; Ponting's once-in-a-lifetime-innings in the final of 2003; Yuvraj's guttural roar in 2011 when he ended Australia's World Cup dominance and off-course Steve Smith's magical hundred at the SCG in 2015 & Mitchell Johnson's fiery spell that claimed Kohli and Rohit to end India's hopes.
ImageSource@Getty
The rivalry started on even terms with both sides locked at 2-2 after four games. But following a maniac 1-run win in 1992, the Aussies embarked upon on a winning pedestal against the Indians which was symbolic of their growing dominance in World Cup cricket. During the course of the next 19 years, Indian fans would witness their side getting steamrolled every four years. They saw Mark Waugh's artistic precision in 1996 overshadow Tendulkar's masterly 90 only to see him return three years later and kill them again- this time softly- in a match where their sides' top-order was reduced to tatters by Glenn McGrath. Oh! the ignominy.

ImageSource@Getty
But four years later, came the biggest heartbreak. 23 March 2003 is one of the many dates that an Indian cricket fan of that time can never forget. No matter how many World events India may have won since then, the memories of that fateful day still continue to hound as 'what-ifs' begin to galore. What if Ganguly had decided to bat first? What if the fast bowlers hadn't gone overboard with their aggression in their initial burst? But there are no 'what-ifs' in sports. The Australians- led by Ricky Ponting's once-in-a-lifetime innings of 140- were better placed in handling the big stage pressure which India wasn't still accustomed to in those days.
Which is why India's win against Australia in the quarter-finals of the 2011 World Cup should rank as of the most significant ODI victories in the nation's history. India went into the 2011 World Cup as favorites but they always knew that if there was one side that could come in their way like it had on numerous occasions in the past, it was Australia. Off-course the Aussies were not the same force as they were back in 2003 or 2007, but you always knew if it were a crunch game [knockout encounter], the Aussies, no matter how strong or weak they are, will fight for every inch.
And, at 5-187, after Australia had scored a competitive 260, thanks to a well-crafted ton from Ricky Ponting, India realized just that. Which is why Yuvraj's guttural roar was symbolic of all the emotions that he and India felt after the left-hander had nailed that cover-drive off Lee to knock the Aussies out of the World Cup.
Yuvraj later revealed what was going through his head when India was reduced to 5-187 after MS Dhoni was dismissed.
"I was thinking that maybe this is the toughest and most challenging situation I have faced on a cricket field," he wrote in The Test of My Life. "This chance may never come again. If I get out, we won't be able to win this game. The dream I was visualizing of beating Australia in the World Cup will stay unfulfilled."
It was coming from a cricketer who has seen his side lay flat into the Wanderers' dust eight years ago on the grandest stage- the World Cup final. Eight years later, Yuvraj's guttural roar signaled the end of Australia's dominance in World Cups. The Quarter-final loss proved to be their first defeat in a World Cup knockout encounter since 1996. It also ended India's streak of defeats against the Aussies in CWC's. For a generation of cricketers- especially Sachin, who had gone through five World Cup games without tasting a victory against Australia, it was sweet redemption; one that fuelled their campaign and ultimately helped them emerge as World Champions.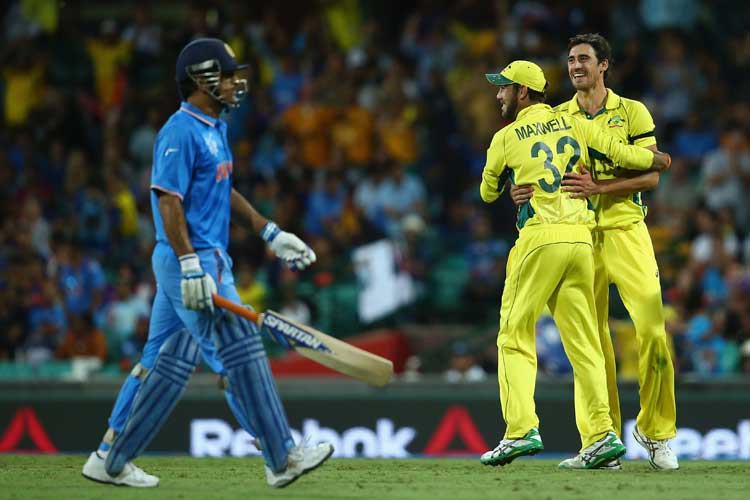 ImageSource@News18
But the redemption was short-lived. Four years later, the Australians returned with fresh legs, new champions [Steve Smith and Mitchell Johnson to name a few] and a drive to regain their dominance in CWC's and over India. Smith stroked a mastery hundred while Mitchell Johnson won the bragging rights against Virat Kohli to knock India out of the semi-finals.
Sunday's game might not have the same stakes as the 2015 encounter, but Kohli from his 2011 experience will know that a win against a side like Australia, early on in the tournament will go a long way in fuelling their campaign and prepare them better for a possible second bout in the knockout stage.