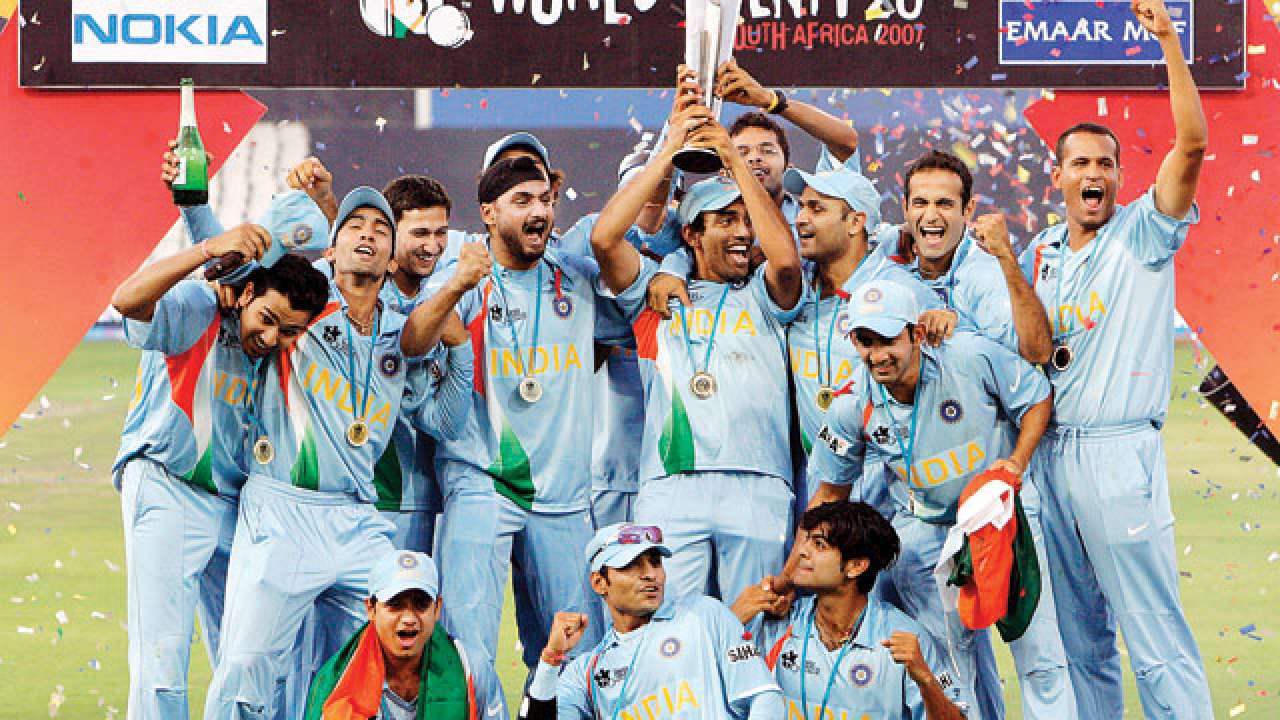 Photo Source: dnaindia.com

To start with...find Dhoni in the pic....
As people become famous, it is very natural for them to want more of the 'spotlight' and attention and to do everything on a grand scale. There are very few who run away from it and Dhoni is a prime example. The question I keep asking is - for such a big star, how could he be low- key and down to earth so 'consistently'? How can he not feel the pressure to change? The answer I guess lies in being 'authentic'. He never let his authentic-self die in the process of becoming a world icon. He also never let the game and fame get to his head. It takes something to be like that in India.
It has been fun to see how he has managed to fool all of us : his wedding, test retirement or retirement from limited overs. Every single person who watches cricket has been guessing and I will be shocked if even 1 person claims to have got it right.
He gave us so many leadership gems by just being in the background .
He is a live example of the "leading like a swan" story in leadership - he was like the swan gliding on the water, his feet paddling fast below the surface, unseen by his team. He never transfered pressure to his team and that got the best out of every individual. How many times have we taken out frustration on our team or even on our children? I can count many! That is my biggest lesson from Dhoni.
You will never find him in the middle of team pictures holding the cup after a victory. He set a new precedent which Kohli follows even now - giving the cup to the youngest/newest member of the team. Can you imagine the impact of that small but powerful gesture? That team member will immediately feel like an important part of the team and the passion to do their best would have been sown right there.
He had a tough group to lead – seniors who had achieved a lot & a bunch of youngsters, some of them were already on the way to stardom. Very rarely did we see him scream at his team mates when they made mistakes. Take Kohli as an example – he is like this hyper kid who wants to be in the thick of action, completely in contrast to Dhoni's personality. How do you handle a star team member who is totally opposite in nature? Dhoni just let him be. When the DRS was introduced, we all know how 'good' we were. As a captain, Kohli used to refer everything and we had situations where no reviews were left within the first few overs of the match! On one occasion, Kohli was jumping to ask for the DRS review and you could see Dhoni in the background smiling and calling "Cheeku, Cheeku" to stop him. But Kohli did not hear him and went ahead with the review. What was Dhoni's reaction? Did he scream and say, I told you! or why did you do it??? No. He only smiled and moved on. How many of us let our team/children make mistakes and help them learn that way?
Photo Credit: zeenews.india.com
He gave up test and limited overs captaincy selflessly & without any fuss to let Kohli take charge and to help him settle into that role while Dhoni was still around. I can't think of many who would want to give up a powerful position, especially when he knew that his team would have been fine to have him as their captain. I loved the way Dhoni managed to inspire and earn respect from someone like Kohli throughout the journey. It could have been very easy to go different routes because of the differences in the way they think & operate. In ODIs, Kohli let Dhoni lead while he used to be at the boundary and some crazy running that they did in T20s for each other spoke volumes of the relationship that they shared.
For me, Ganguly changed our mindset & made us believe and Dhoni got the results. Dhoni is all about the heart and his actions talk a lot about him like when he let Ganguly lead in his last test. It was a mark of respect & set a tone for the team to follow.
Photo Credit: sportstar.thehindu.com
These things seem very simple and we tend to observe them but very few of us put them to practise consciously. I TRY all this with my daughter/team – Let them make mistakes and not shout/react to it, ensure pressure doesn't transfer to them, try to inspire them to give their best etc. It works sometimes but to be honest, I struggle to practise it consistently.
One thing is for sure – I will keep referring back to Dhoni's lessons on leadership & humanity. They are invaluable and there will be nobody like him in our generation.
Read more of Anusha's blogs here: https://theflameofpassion.blogspot.com/?m=1
Jai Hind