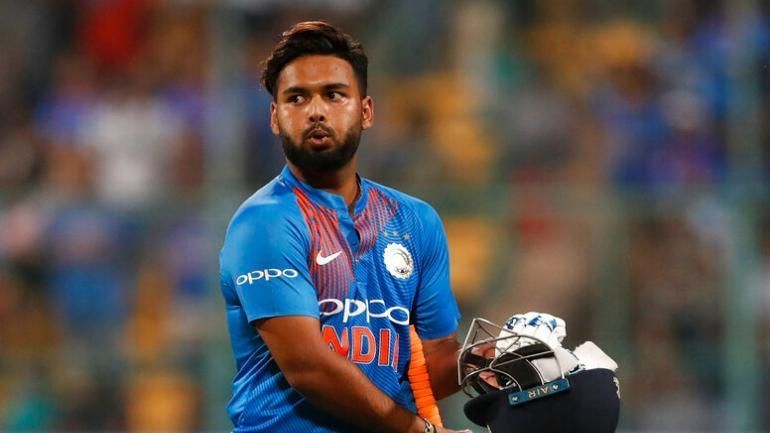 ImageSource@Yahoo
India has called in the swashbuckling left-handed wicketkeeper-batsman, Rishabh Pant as a cover for the injured Shikhar Dhawan. Yesterday, the team management took a call to observe the injury of Dhawan for a few days before coming to a final conclusion.
While Pant is yet not a part of the 15-man touring party, he is being flown into acclimatize to the English conditions before a consensus on Shikhar Dhawan. For the uninitiated, Dhawan has suffered a fracture on his left thumb after being struck by a Pat Cummins bouncer while he was batting on 22.
Talking of Rishabh Pant, ever since the news of Shikhar Dhawan's injury started doing the rounds, social media, as well as former cricketers from around the world, are batting for Rishabh Pant's inclusion in the World Cup squad. #Pant is trending on Twitter and the numerous articles (including mine) are being churned out without even an official confirmation about Dhawan's exit or possible replacement.
Pant- a swashbuckling left-handed batsman- has always polarised opinions regarding his selection in the national side. While there has never been a question mark on Pant's talent, it's his ability to finish off games that have come under the scanner. It was precisely the reason chief selector MSK Prasad gave when asked of his non-inclusion in the original World Cup squad.
But, geez! Pant remains an irresistible option to ignore. While he's an enigma, who on days, would give you a feeling of tearing your hair (if any) apart, the opposite side of the coin is equally true; on days when Pant will get going, he'll singlehandedly win you the game from impossible situations. In short, Pant is an X-factor.
Another thing that goes in Pant's favor is the fact he is a southpaw. Barring Dhawan, none of India's top-7 is left-handed. Pant's inclusion will help the side maintain a left-right combination in the middle overs, not to forget, his ability to play spin really well.
The swashbuckling left-hander will also be eager to shrug the patchy start that he has endured to his 50-over career where he has managed to score just 93 runs at 23.25 after 5 ODIs]