There are events. There are mega-events. Blockbuster, memorable, add any adjective you want, and then there are events that forever etch themselves into the annals of history; one that not only defines that generation but also serves as a fillip for the future generations to emulate, these are what we call watershed events.
27 years, 9 months & 7 days- the amount of time India waited to add another World Cup to their kitty, and when it finally happened on this day, eight years ago, it was greatest day, not only for Indian cricket but for an entire generation of Indians who, growing up in the late 80s and thereafter have heard about the tale of how Kapil's Devils' did the unthinkable in the summer of 1983, and longed to see that live in front of their own eyes; a tale that they would narrate to their kids with a sense of pride just like their father used to do while talking about 1983.
But, as they say, there are no fairytales in sports, and it would be vindicated every time an Indian team went to participate in the World Cup. Sometimes, it would end in a no contest [1992, 1999] and on other occasions, in tears [1987 & 1996].
But, the dream rolled on.
Every time a World Cup would roll around, the iconic image of Mohinder Amarnath running to the pavilion after claiming Michael Holding's wicket or Kapil Dev holding the trophy with visibly evident pride in his eyes on the Lord's balcony with a plethora of tri-color clad Indians celebrating on the field would flash across all cricket shows and a burning question would ensue amongst all cricket fans- Is this World Cup going to be the moment when another Indian captain joins Kapil Dev with a World Cup trophy? Will this finally be our moment?
On 2nd April 2011, MS Dhoni's Brobdingnagian six over long-on off Nuwan Kulasekara sent the crowd and billions of Indians in a frenzy. For some, it was a moment that saw tears trickle down their eyes [in happiness, that is]- the very eyes that have seen every Indian campaign sans 1983 end in heartbreak.
This is the story of India's World Cup win that fulfilled the dreams of the billion cricket fans in India and what better time to celebrate the moment than on its 8th anniversary.

#4 2007 World Cup disaster a building block for 2011 success


Whenever the history of how India won the 2011 World Cup will be written, the scars of the disaster in the 2007 World Cup will always find a mention.
After the disappointment of losing the final in 2003 at the hands of Australia, the 2007 World Cup in the Caribbean was supposed to be the fairytale moment for a plethora of stalwarts in the Indian side- Sachin Tendulkar, Sourav Ganguly, Rahul Dravid, and Anil Kumble. On paper, India looked an imperious side boasting of a right mixture of youth and experience.
But, what that paper did not tell us and performance on the field that ensued did, was there were clear signs of panic in the Indian side. Greg Chappel's penchant with experimentations had left the players puzzled with their role in the side, and team harmony was at its nadir.
As a result, India lost their opening game to Bangladesh, bullied the minnows Bermuda in between before bowing out of the tournament following another heart-wrenching loss at the hands of Sri Lanka.
"That's the end of the great Sachin Tendulkar" reckoned Ian Bishop after Dilhara Fernando clattered the stumps of Sachin Tendulkar to effectively end India's hopes. India was knocked out in the first round. Stunned, almost teary faces of the players told the entire story. Effigies were burnt. Heads were called out.
Indian cricket had hit its nadir. Greg Chappell resigned as Coach and there were apprehensions about the future of the stalwarts like Dravid, Ganguly, and Tendulkar. The Master Blaster, as he would reveal in years' to follow reckoned 23 March 2007 as the worst day of his life.

"I would call it (March 23, 2007) one of my worst days in cricket," "When you feel. you win and end up losing, you are bound to feel terrible. Like the Johannesburg Test [1997] when we had to get South Africa out but it rained, the Barbados Test [1997] when I was captain and the 1996 World Cup semi-final loss to Sri Lanka."


"There are such instances when you feel really terrible. The 2007 World Cup was obviously not good for us. The first blow was the loss to Bangladesh and then we lose to SL. I never thought we would lose to Bangladesh. We are not over-confident, but you do feel confident about India beating Bangladesh. It was one of those uncertainties of the game." Tendulkar was quoted by the Mid-day in 2017.
Post the 2007 World Cup debacle, Tendulkar did not leave his hotel room for two days, as he contemplated his cricketing future. But, a call from one of his cricket idols gave him a completely new perspective and a motivation to keep himself going.
'I was away when I got a call from Sir Viv Richards. He spoke to me for around 45 minutes- about the ups and downs in cricket. He stressed that I have plenty of cricket left in me, and said, 'You are not going to retire'.
The call from Viv Richards seemed to have come at a timely event for Tendulkar as it convinced him. 'Okay, I'm going to abandon these thoughts and start practising again when I return to Mumbai' revealed Tendulkar. The Master Blaster started training at 5:30 AM in the morning and with his brother Ajit reminding him that the next World Cup [2011] was scheduled to be held in India, Tendulkar's drive to push himself to finally achieve his dream became a burning desire and a motivating factor.
It is here that the cornerstone for the 2011 triumph was laid.
#3 The Preparation


Off-course, Tendulkar couldn't win the World Cup on his own. For, if it were the case, he'd have won every single World Cup that he participated in. Unlike the Chappel era, the players needed to be made aware of their roles without the sword hanging on their head.
India's World Cup preparations officially started when MS Dhoni was handed over the captaincy following the sides' World Twenty20 triumph in South Africa. Rahul Dravid had resigned from the post following series defeat in England. Dhoni's sense of calm in pressure situations stood out in the tense moments of the World Twenty20, and he was tasked with the work of resurrecting India's ODI fortunes and build a side for the 2011 World Cup at home.
One of the things that Dhoni did after taking over the reins was to lay more focus on fielding and maintaining the right balance between youth and experience. And, so went out Rahul Dravid and Sourav Ganguly from the side prior to tri-series in Australia in January 2008. The likes of Gambhir, Uthappa, and Rohit Sharma made full use of their opportunities and India went on to beat Australia in the finals to claim the tri-series.
Following the triumph in the CB series, Dhoni was joined by Gary Kirsten, and together, they embarked on a journey that would eventually end with Dhoni lifting the cup on the night of April 02, 2011. Over the course of the four years, Indian team under Dhoni scaled a lot of unchartered territories- like beating Sri Lanka [3-2 in 2008, 4-1 in 2009] and New Zealand [4-1 in 2009] away from home besides winning tri-nation tournaments and the 2010 Asia Cup.
The team looked settled with an explosive top-3 in Sehwag, Tendulkar, and Gambhir, potent middle-order graced by the likes of Virat Kohli, Yuvraj Singh, Suresh Raina, and MS Dhoni and backed up by the bowling unit spearheaded by Zaheer Khan.
#3 The campaign leading to the finals and the Yuvraj factor
And, so when the World Cup rolled around, India was described as favouritesby almost every cricket pundit. And, it was not only because of the home conditions but also due to the consistent form displayed by the side during the last four years. But, with expectations comes pressure, and as comforting the home conditions might be, it brought an added amount of pressure from the unforgiving fans', and also considering the fact that no side had lifted the World Cup on home soil.
India won the first game comfortably by swatting aside Bangladesh thanks to Virender Sehwag's whirlwind 175 and Virat Kohli's debut World Cup hundred. Sachin Tendulkar notched up his 98th International ton in the next game against England, but India's over-reliance on Zaheer Khan meant they were held to a draw despite scoring a mammoth 338.
Considering India did not have a genuine all-rounder in their ranks, the role of Yuvraj Singh became very important. The Indian left-hander had endured a difficult twelve months leading into the World Cup where he lost his form and his fitness. For India to win a World Cup, Yuvraj Singh needed to have a good tournament- with both bat and ball. It was a challenge- both physical as well as mental, but as Yuvraj has done throughout his career, he rose like a Pheonix.
With both bat and ball, Yuvraj Singh continued to play a crucial role throughout the World Cup. His hundred against the West Indies in sapping conditions; guttural roar after cover-driving Brett Lee to lead India into the semi-finals and the double wicket-break against Pakistan testified that it was Yuvi's World Cup, it was his moment to put aside all the disappointments of the past, and he wasn't going to bottle it easily.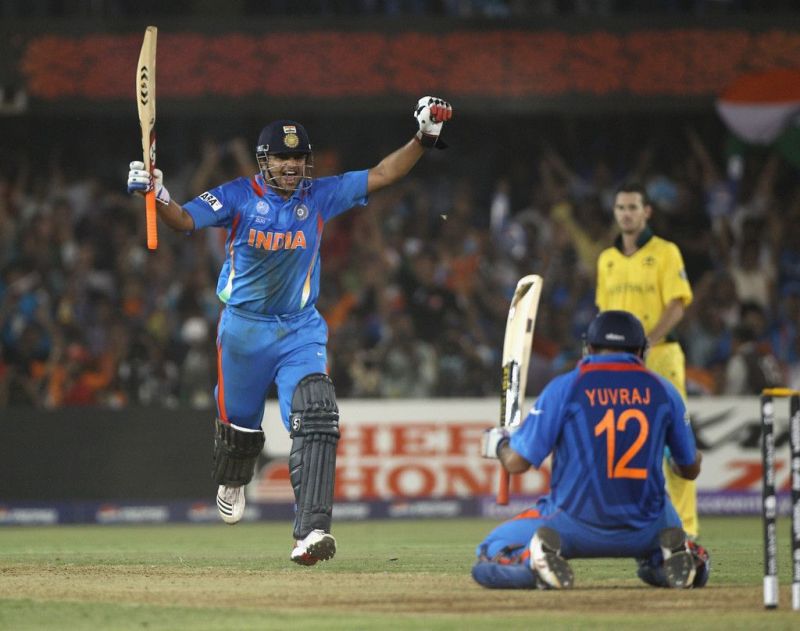 Such was Yuvraj's impact that performances like that of Suresh Raina went under the radar. But, if ever there is a discussion about India's all-time World Cup XI, Suresh Raina's name will always be there. His contribution of 34 [against Australia] and 36* [against Pakistan] might not look substantial in terms of sheer numbers but in terms of significance and the situation, it came under- especially the 36 against Pakistan that helped India post a challenging total of 260, will always be worth its weight in gold.
India lost just a single game in the group-stage [against South Africa] and come to the knockout stage, they looked like a unit possessed with a sole ambition of lifting the World Cup. It was clearly reflected in the way they defended the target of 261 against Pakistan in the semi-finals with everyone giving more than 100 percent in the field.
Pakistan was bowled out for 231 with every bowler sharing two wickets each and the sides' tryst with Sri Lanka- the same team that had knocked them out of the 2007 World Cup was fixed.
#1 The Climax-
And, so came the day of the finals. The day every Indian fan had been waiting for. The day where the Indian team would go on etching their name into the annals of history by breaking a lot of hoodoos at the Wankhede: of the home side winning the tournament for the first time, of completing the highest run-chase in a World Cup final, and century-makers never having finished on the losing side.
Mahela Jayawardene's masterly crafted hundred to take Sri Lanka to a total in excess of 270 was overhauled by the defiance of Gambhir and rhythmic genius of MS Dhoni.
Chasing 275, Lasith Malinga dealt India with a body-blow by removing Virender Sehwag and Sachin Tendulkar within the first ten overs. As Tendulkar edged the ball to Kumar Sangakkara, a deathly silence took over the Wankhede stadium, and as he departed from the scene, the fact that 'fairytales do not translate into reality' began to echo louder in every fans' head.
But, as already alluded before, this was a different Indian side. It was no longer over-reliant on Sachin Tendulkar, and what followed in the game thereafter vindicated the aforementioned fact. Brick by brick, Gautam Gambhir and Virat Kohli stared India's revival. Every run was cheered like it was a four or six. The singles were converted into 2s and the occasional bad ball was carted to the fence.
But, just as Kohli and Gambhir were starting to look ominous, an outstanding aught & bowled by Dilshan of Virat Kohli brought the match right into the balance.
And, then came the Master-Stroke. Everyone was expecting Yuvraj Singh to come out to bat, but instead walked out MS Dhoni, and played an innings for the ages.

"I knew most of the bowlers of Sri Lanka as they were part of the Chennai Super Kings earlier. I promoted myself because Muralitharan was bowling at that time. I have played him a lot in the CSK nets and I was confident that I will be able to score runs freely against him. That was one of the main reasons why I pushed myself up the order during the final," Dhoni revealed a few years later.
Dhoni consolidated the run-chase by stitching a crucial 109-run stand with Gautam Gambhir. The duo rotated the strike at will besides nailing the loose balls for a boundary. Gambhir missed out on a well-deserved hundred when he was bowled by Thisara Perera for 97 but Dhoni rallied on alongside Yuvraj to take India closer to the target.
And, as Ravi Shastri said in the commentary box, "Dhoniiiii, finishes off in style", the Indian captain ended the 28-year long wait with a Brobdingnagian six over long-on to send the entire crowd and the country in a frenzy. The dream was realized, and what it meant to every single player was visible from their emotions.
In 2007, Tendulkar was contemplating retirement following a defeat against Sri Lankan, four years later, he was being lifted by his teammates with the World Cup trophy in his end, testifying that sometimes, fairytales do come true.