India became the first visiting side to enforce a follow-on on the Australians after Kuldeep Yadav's five-wicket-haul helped the visitors bowl the Aussies out for 300 after they had racked up a mammoth 7-622 in their first innings with Cheteshwar Pujara [193] and Rishabh Pant [159*] spearheading the effort with contrasting yet defining innings.
Consequently, India took a 322-run first innings lead over the visitors- the fourth highest they have ever taken in a Test outside the sub-continent. Today, in this article, let us stroll down memory lane and recount India's biggest first-innings lead outside Asia.
Here's the compilation:-
#4 319 vs England, Oval, 2007
ImageSource@Getty
Result- Draw
One of those Test matches which still garner a lot of debate as to whether Rahul Dravid should have enforced the follow-on after having gained a 319-run lead over England. The 2007 India tour of England was a momentous occasion, for it was the first time an Indian team defeated the English on their own shores following 21 years of ignominy.
But, the occasion, what many believe could have been even more historic, had India enforced the follow-on after they had bowled out England for 345 in the first innings. This, after thanks to Anil Kumble's maiden Test ton, the visitors had accumulated 664 in 170 overs in their first innings.
But, skipper Rahul Dravid decided against enforcing the follow-on. India, in their second essay, found themselves reeling at 3-11, which meant after being on the ascendency, they had to take a defensive route, reflected by Rahul Dravid's 96-ball-12. India eventually declared at 6-180 after playing out 58 overs and lost precious time to help England escape with a draw as the hosts blunted out 110 overs on the final day to keep the series deficit to 0-1.
#3 323 vs West Indies, North Sound, 2016
Result- India won by an innings & 92 runs
The match which saw Virat Kohli score the first of his six Test double-hundreds- a pristine 200 at the Sir Vivan Richards Stadium in Antigua. India batted first, and on the back of a double hundred from skipper Kohli and a 253-ball113 by Ravi Ashwin racked up 8-566 before deciding to have a go at the Windies.
Umesh Yadav [4-41] and Mohammad Shami [4-66] wrecked through the hosts' with them still 323 runs in arrears. Captain Kohli decided to enforce the follow-on and this time Ravi Ashwin, who was fresh from a pulsating ton in the first innings, backed it up with a seven-wicket haul [7-83] to set-up a commanding win by an innings & 92 runs for the visitors.
#2 355 vs England, Leeds, 2002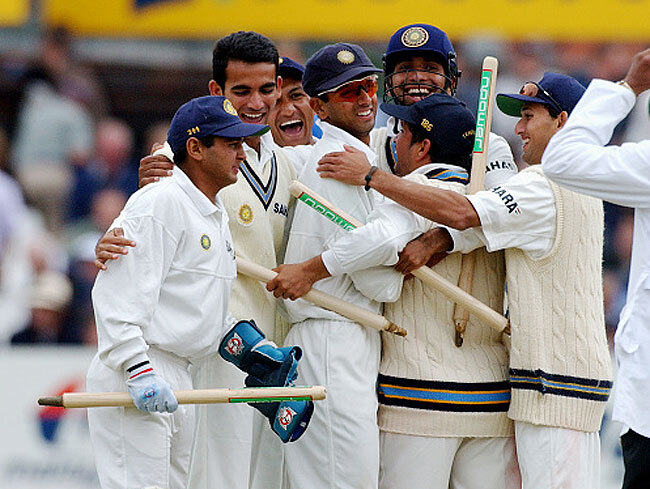 ImageSource@Getty
Result- India won by an innings & 46 runs
If you're an Indian cricket fan growing up in the early 2000s, the Test win at Headingley would rank as one of the most treasured moments. It wasn't merely a win; it was a statement. On a murky, overcast day at Leeds with the pitch indistinguishable from the outfield, Sourav Ganguly decided to bat first after winning the toss.
It was an understandable decision from Ganguly, given he had two spinners in his side to make use of the fourth and fifth-day pitch. But, perhaps, even the most ardent Indian fan would not have anticipated what followed next. Opener Sanjay Bangar [68 off 236 balls] and Rahul Dravid [148 off 307 balls] blunted out the English attack on the first day with a dodged 170-run stand for the second wicket before the shenanigans of the likes of Sachin Tendulkar [193] and Sourav Ganguly, who scored a whirlwind 167-ball-128 as India posted a Brobdingnagian 8-628 to bat England out of the game.
England's first innings folded for 273 with Alex Stewart being the lone contributor at 78. Anil Kumble and Harbhajan Singh shared three wickets each and with England still 355 runs in arrears, Ganguly opted to enforce the follow-on.
Naseer Hussain scored a defiant 110 in the second innings to delay the inevitable as Kumble's 4-66 helped India bowl the hosts out for 309 in their second essay to take the match by an innings & 46 runs.
#1 373 vs West Indies, Gros Islet, 2006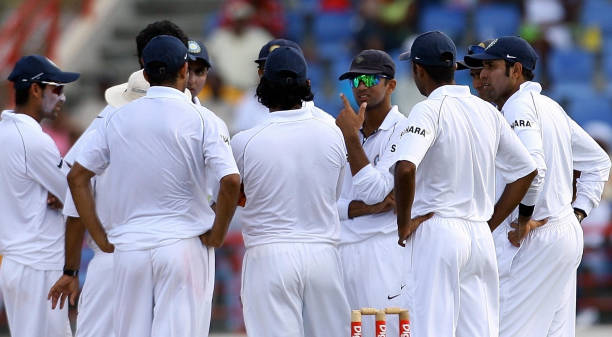 ImageSource@Getty
Result:- Draw
The 2006 Test series in the Caribbean was a momentous occasion for the Indian Cricket team as the Rahul Dravid-led unit scripted their first series win [1-0] on the islands since 1971.
India dominated the series throughout. The second Test at the Gros Islet saw the visitors' batting might to the hilt when they racked up 8-588 in the first innings thanks to hundreds from Virender Sehwag [180], skipper Rahul Dravid [146] and Mohammad Kaif's unbeaten knock of 148. In reply, the Windies folded for a mere 215 with Munaf Patel [3-53], Anil Kumble [3-57] and Virender Sehwag [3-33], giving India their biggest first-innings lead outside of Asia- 373 runs.
But, a defiant hundred from Windies skipper Brian Lara [120], who batted through the entirety of the fifth day denied India what would have been a commanding win.