Who is Chetan Sakariya?


Full name: Chetan Sakariya
Born: February 28, 1998, Bhavnagar
Current age: 23 years
Role: Fast Bowler
Bowling style: Left-arm Medium Fast
Major Teams: Rajasthan Royals, Saurashtra, and Saurashtra U-19s
An elated Chetan Sakariya couldn't hold back his excitement (and rightly so!) as he shared a photo of him captured with the legendary MS Dhoni on Instagram after he had outfoxed the champion batsman with a clever change of pace during CSK v RR fixture last week.

It was a special moment for young Sakariya who has seen so much in life at such a tender age. That moment, or for that matter, his entire IPL campaign thus far has been a fairytale for the 23-year-old left-arm seamer from Saurashtra.
And, that is the beauty of the IPL, isn't it? Apart from it being a platform where talent meets opportunities, it is also a platform that helps cricketers like Chetan Sakariya to fulfill their as well as their family dreams.
Life hasn't been kind to young Chetan...
Born in a family where financial constraints ranged to the extreme, he had to struggle for every small little thing.

Born in the pre-IPL era, where the riches of the sport were restricted to Indian internationals, cricket wasn't perceived as a career option by his parents, especially his father.
His father, Kanjibai, who used to transport goods in a tempo to make ends meet for his family, viewed cricket as a 'rich people's sport' where one needs connections to break into the system.
Chetan's family wanted him to concentrate on his studies and pursue engineering. But the young man had been smitten by this beautiful game to such an extent that there was no way back, so much so, that sometimes he had to lie to his parents to play cricket.
Until one fine day, his maternal uncle stepped in.
The deal was simple. His uncle told him that he would take care of his tuition fees and let him play cricket but in return, he would have to help his uncle in his stationery business.
The first break and the succeeding roadblocks:


Sakariya's first big break came when he impressed Rajendra Gohil, the coach at the Sir Bhavsinhji Cricket Academy, with his exploits for his school in a district tournament.
Gohil immediately asked him to join his academy and soon the left-arm seamer got selected for Saurashtra U-16s but he didn't get a chance to play. Chetan's career hit a roadblock a year later when he suffered a glute injury which sidelined him for a good 7-8 months.
"When I was 17, I got a glute injury. That time I didn't realize what it was. It used to hurt a lot but I just kept on bowling. As a result, it got aggravated. During that time my pace had also dropped. People used to say earlier you used to bowl fast but now you run in and bowl spin," Chetan Sakariya told ESPNCricinfo.
"I wasn't aware of the concept of rehab back then and it took a long time to heal on its own. In fact, for a period of 7-8 months, I didn't play any cricket. Then during one of the school games, our school coach asked me to play. So slowly I started playing again. Things were not looking great but there was that passion inside. So I started practicing again." he added.
But, Chetan didn't even have his own pair of spikes...


His exploits in the Cooch Behar Trophy had left an impression on Sheldon Jackson, who also hails from Bhavnagar.
Jackson called the young seamer in the nets and placed a condition that if the 22-year-old can dismiss him then he will buy him a pair of spikes.
"That time he [Jackson] used to play IPL, so he was a big player for me. He told me if I could get him out, he would give me new spikes. Till then I didn't have spikes of my own. Even at Cooch Behar, I played with someone else's shoes. That day, I bowled him, and he gave me my first pair of spikes. When I went to the MRF Academy, I took those shoes with me." he recalled.
Sakariya did the needful (bowled him) and hence earned his maiden spikes. Sakariya soon earned his maiden Vijay Hazare Trophy cap for Saurashtra during the 2018-19 season but his big break came in the Ranji Trophy later that season.
(Image credits: New Indian Express)
Coming in as an injury replacement for Jaydev Unadkat, Chetan Sakariya took a five-for-on debut and ended the season with 29 wickets in 8 matches.
His career, however, endured another roadblock as he suffered a stress fracture while training at the MRF Academy. Once again his progress was stalled and the southpaw struggled in the succeeding Ranji season, managing just 12 wickets in 13 innings at 48.25.
A personal tragedy, a life-changing IPL contract:


Earlier this year, Sakariya lost his elder brother, who committed suicide. The young seamer was playing Syed Mushtaq Ali T20 Trophy at the time and his family chose not to apprise him about the devastating news.
His mothers kept hiding the news from him for about ten days until she broke down one day. With his father already bedridden and his elder brother gone, Chetan was now the sole breadwinner of the family.
"We didn't inform him about his brother's death for the first 10 days as we didn't want his game to be affected. All we told him was that his father wasn't keeping well," Chetan Sakariya's mother told aroundthewicket.com.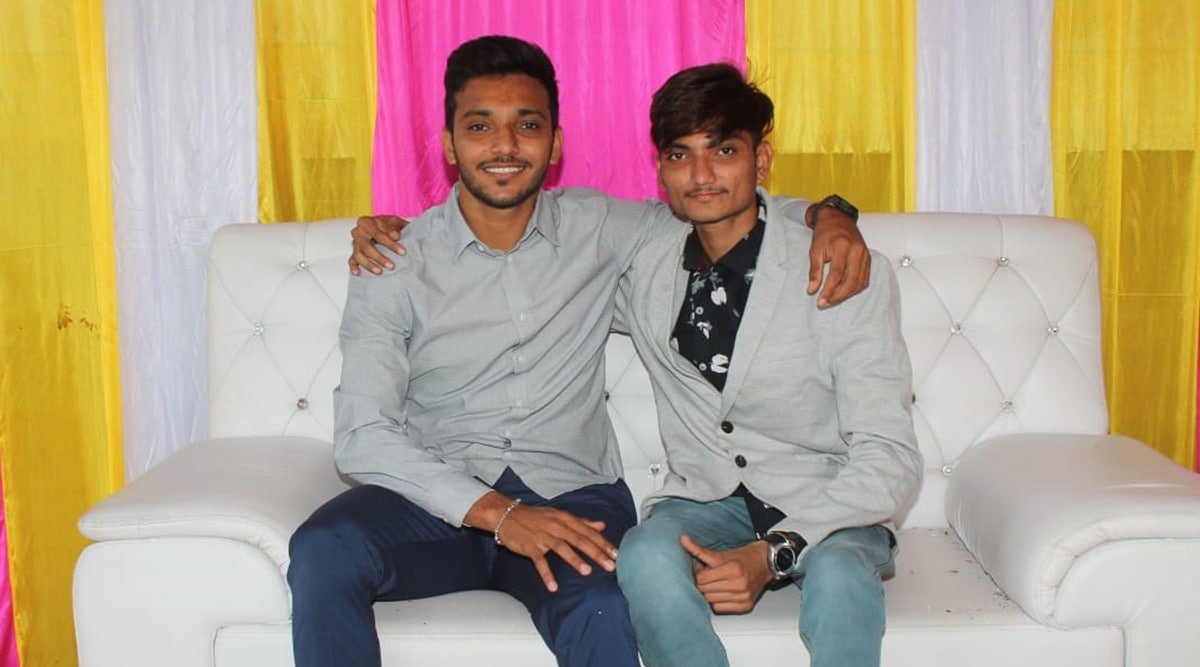 (Image Credits: Indian Express)
"Every time Chetan would call to ask about his father's health, he would ask us to make him speak to his brother. But I'd change the topic. I wouldn't let him speak to his father too because I knew my husband would tell him the truth," she recalled.
''But one day, I broke down on the call. After knowing of his brother's death, Chetan didn't speak to anybody for a week. Neither did he eat. The two brothers were very close," she added.
Three weeks later, luck smiled on the family as Chetan bagged an IPL contract worth Rs 1.20 crore at the IPL auction.
Even though they were still coming to terms with the tragic loss, it was a life-changing moment for not only Chetan but for his entire family, who, for most parts of their life could barely manage to make ends meet.
Five games into his maiden IPL season, Chetan Sakariya has already turned a lot of heads with his skills, calmness, mental fortitude, and his athleticism.
He has already dismissed the likes of KL Rahul, MS Dhoni, Suresh Raina, Mayank Agarwal, Ambati Rayudu and is quickly becoming Sanju Samson's go-to option.
Chetan Sakariya intends to buy a home for his family in Rajkot. For a guy who used to eat at cheap places in order to save money for his family, one can only imagine the magnitude of the achievement. And, long may it continue.