The 2019 World Cup is finally here. But with Team India's World Cup campaign still a few days away, we at The Bharat Army decided to go down memory lane and recollect some of the greatest moments for Team India in World Cups' since the turn of the century.
Barring the 2007 World Cup, which ended in utter disaster, Team India have performed fairly well in the quadrennial event since the 2000s. From being the runners-up in the 2003 edition; an event that saw them win nine games on the bounce- a record which was bettered by MS Dhoni's side when they won 11 on the bounce between 2011 & 2015- to be crowned World Champions in 2011, India have had a lot of memorable events in CWC's.
Here's a look at the top-5 moments for Team India in World Cup since 2000:-
#5 India beat South Africa for the first time, 2015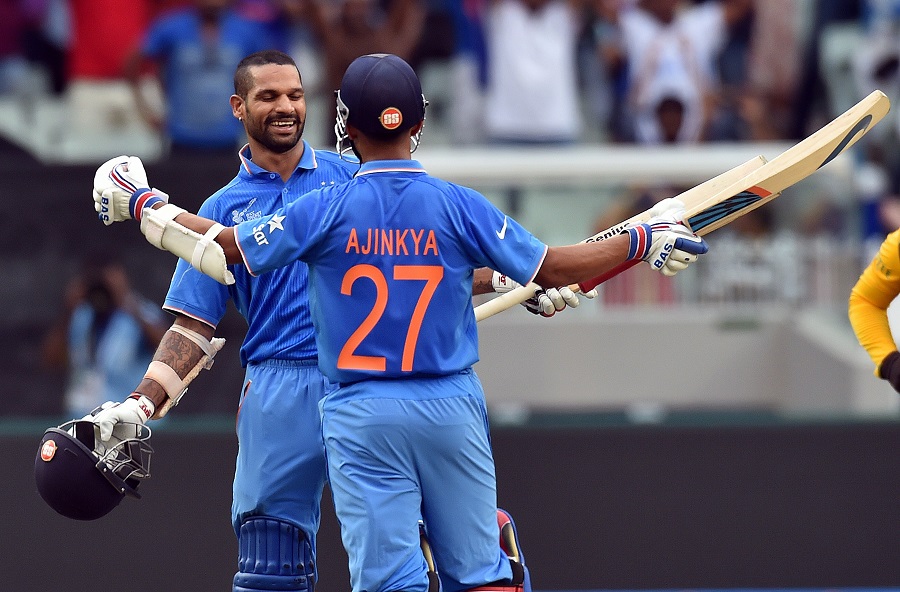 Star Sports has developed a reputation for producing witty advertisements to hype up a contest of marquee tournaments like the World Cup or the IPL in the past few years. It all started with the Mauka Mauka advertisement leading into the 2015 World Cup encounter between India and Pakistan.
The narrative of the advertisement basically revolved around a Pakistani fan who waits every four years with the hope that his side will finally win a World Cup encounter against arch-rivals India, only to be left disappointed. The 2015 World Cup turned out to be the same story and so we can expect the ad to prop up this time too.
India's second game in that World Cup saw them in the same position as Pakistan's, for it was against the mighty Proteas; a side they had never beaten in the quadrennial tournament. Prior to the 2015 WC, both sides' had met on three occasions [1992, 1999 & 2011 World Cup] with South Africa coming out trumps every time.
In fact, South Africa was the only side to beat India in their triumphant 2011 World Cup campaign. So, leading to the 2015 encounter, all eyes [70,000 plus in the stadium itself] were on Dhoni's men. As 70,000 plus proud Indians sang the national anthem in unison at the Melbourne Cricket Ground, the stage was set for the Men in Blue to finally shrug the monkey off their back.
India batted first and did not get off to the best of starts with AB de Villiers sending back Rohit Sharma with a direct-hit from extra-cover. But, Shikhar Dhawan and Virat Kohli went old school to infuse a sense of calm in the dressing room. The duo started slowly but ensured India had a solid base to work with by stitching a 127-run stand for the second wicket. Kohli fell in trying to up the ante but Dhawan held the fort with disdain.
The left-hander flicked, pulled and swiveled his way to his first century on Australian soil and also notched up his career-best score of 137. Shikhar's 137 along with Ajinkya Rahane's swashbuckling 79 [60] helped the Men in Blue to post 7-307 after 50 overs. The target of 308 was at best a par score in that World Cup and with the Proteas boasting of the likes of AB de Villiers, Faf du Plessis, Amla, de Kock in their line-up, it was expected to be a fascinating run-chase.
But South Africa's penchant with run-outs and subsequent collapse on big days came back to haunt them again. After the opening bowlers had removed Quinton de Kock [7] and Amla [22] with South Africa's score reading 2-40, skipper AB de Villiers [30] and Faf du Plessis [55] held the innings together with a 68-run stand for the third wicket. But, just when it looked like the duo were warming up for a big partnership, calamity struck. Like in the 2011 World Cup quarter-final against New Zealand, de Villiers got run-out while trying to steal the second run.
The Proteas could never recover from the run-out of de Villiers as an appalling batting display thereafter saw them lose their last seven wickets for 69, handing India their maiden win over their Southern Hemisphere opponents. That it came by a margin of 130 runs was a cherry on the cake.
#4 Nehra goes bananas [6-23 vs England, 2003]
Ashish Nehra had a swollen ankle two days prior to India's World Cup and the fact that he made it to the game was nothing sort of a miracle. What followed next wasn't a miracle but an exhibition of not only seam bowling [anglin-in and going away] but also Nehra's unrelenting desire to contribute to his side's success.
"He's had a swollen ankle for two days and it was the sheer determination that made him play. He bowled a fantastic line. It's one of the best performances in a one-day international that I have seen since I started playing for India." Ganguly on Nehra's 6-23.
Comin in as first change after Zaheer Khan and Srinath had reduced England to 2-28, Nehra produced of seam-bowling. Alex Stewart, who was nailed LBW was the only batsman not to get dismissed in the slip cordon as his line- back-of-a-good-length- proved to be too good for the tentative English batsmen.
Nehra's 6-23 still remains the best performance by an Indian bowler in World Cup cricket and his celebration: scarfing a banana and then throwing it up, got forever impinged into the annals of Indian World Cup history.
#3 Tendulkar goes mental [98 vs Pak]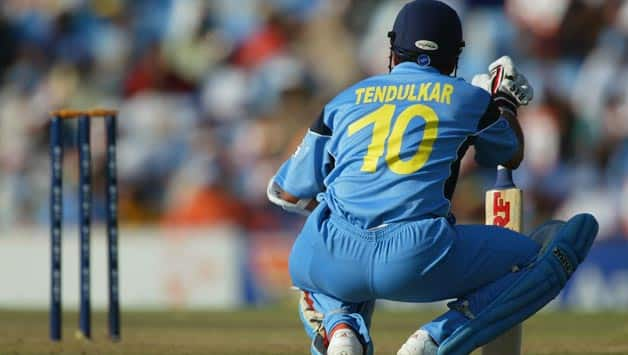 It is a crunch game at the World Cup against the arch-rivals. They've batted first and on the back of a typical Saeed Anwar century have put up a more than competitive total of 272. Their fast bowling attack is amongst the best in the world and you don't want to expose your relatively inexperienced opening partner [Sehwag] to Wasim Akram first-up. So, what do you do? Like all champions, you mask your partner and lead from the front by facing the first delivery of the innings; something you seldom do in your career.
But, that's the hallmark of champions, isn't it? Adversity or a challenge is what spurs him on; it is what brings the best out of him/her. The 2003 World Cup encounter against Pakitan certainly brought the best out of Sachin Tendulkar who played an innings who till this day remains one of the greatest knocked ever witnessed in World Cup cricket.
Tendulkar, during a career that spanned over two decades, played numerous innings that are now part of the folklore but their's something different about that knock at Centurion. And, it was not about the number of runs that he eventually scored, it was in the manner he got them. It was the perfect example of how great players rise to the occasion when it matters. Tendulkar not only rose to the occasion that day; he went on to make it his own.
Sensing that vile Wasim Akram could be good enough for the inexperienced Sehwag, Tendulkar decided to take the first ball, something his partner's complained he rarely did during the course of his career. It was a statement of sorts to Wasim and co that the Little Champion was ready for the challenge. If that wasn't convincing enough a statement, the mayhem that ensued in the next eight overs, sure was.
Tendulkar announced his arrival with a perfect backfoot punch off Wasim Akram. If that wasn't an indication of the kind of mood Tendulkar was in, the next over by Shoaib Akhter out all the doubts to rest. Shoaib charged in, bowled short and wide and what Tendulkar did next remains the most watched and the most talked about counter-attack in Indo-Pak World Cup history. Tendulkar threw the kitchen sink to the delivery and the ball sailed past the third-man boundary.
That shot by Sachin proved to be a huge psychological dent on the Pakistani bowlers, especially Akhter. The next ball, Shoaib overcompensated for his length only for Sachin to whip him off his legs before nailing a picture-perfect on-drive of the very next delivery. Pakistan's bowlers had no answers to Tendulkar's counter-attack and even though they chipped away with wickets of Sehwag and Ganguly [0], they were never really able to recover from it.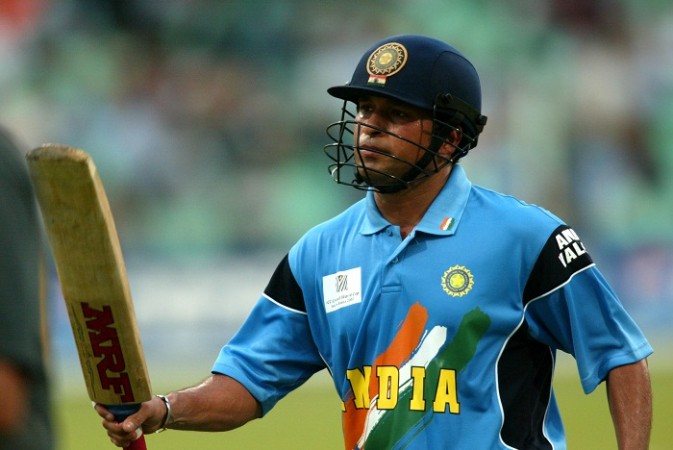 Tendulkar breezed past his 60th ODI half-century and the celebration [a thump of a fist] that ensued testified what it meant to him. He may not have got to a well-deserved hundred thanks to the cramps that hindered his fluency at the backend of the innings but the fact that Pakistan was still not able to recover after his dismissal [India required 98 runs at the time of Tendulkar's dismissal] testified the impact that his innings had on the opposition's mindset.
#3 Yuvraj's guttural roar ousts Australia, 2011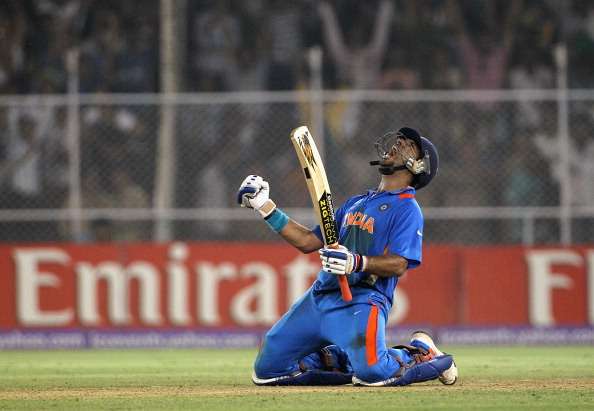 Australia has given India and its fanatic fans a lot of heartbreaking moments in World Cup cricket. Who can forget Ricky Ponting's swashbuckling 140 in the final of the 2003 World Cup final which literally took the wind out of the Indian challenge or the nail-biting defeats [by one run] in the 1987 and 1992 events?
Coming into the Quarter-finals of the 2011 World Cup, the Men in Blue were on a six-match losing streak in CWC's. Australia's dominance over India in high-pressure games plus their impeccable streak remained the biggest roadblock to the Men in Blue's quest for glory.
Australia batted first and Ricky Ponting's dodged century on a track that had a plethora of help for the slow bowlers testified that the defending World Champions may not be the same force but they wouldn't go down without putting up a fight. Ponting's hundred helped Australia post a more than competitive target of 261.
The pressure of the Quarter-finals that too in front of your home crowd can get to you big time. It was reflected in India's run-chase. Every time there was a partnership building, a wicket against the run-of-play would bring the Aussies back into the game. And, Gautam Gambhir's horrible miscommunication with Yuvraj Singh between the wickets which ultimately cost India his wicket after several failed attempts testified to the hilt.
After Gambhir, Dhoni too went cheaply when he was brilliantly caught by Michael Clarke at backward point. At 5-187, India was still 74 runs in arrears when Suresh Raina joined Yuvraj Singh at the crease. Unlike the other batters, Yuvraj looked unbelievably calm in the situation and the left-hander was ably supported by Suresh Raina.
The duo soaked in the pressure brilliantly and continued to chip away at the target. Anything outside-off was slashed and or driven towards the off-side while deliveries at the ribs [towards Raina by Lee] was pulled in front of square. Australia's challenge continued to wither away with every boundary that Yuvraj and Raina struck.
The moment finally arrived when Yuvraj nailed a cover-drive off Brett Lee and what happened next: Yuvraj's guttural roar amidst deafening noise, is now a part of folklore.
#1 World Cup Final 2011
"Dhoni finishes off in style" Ravi Shastri's voice after MS Dhoni hit the World Cup-winning six vertebrates in the ears of every Indian till date. And, why shouldn't it? For years, the Indian millennials had longed for their 1983 moment when a captain of their generation will lift the ultimate price in the game- the World Cup. On the 2nd of April, 2011, that moment finally arrived when MS Dhoni smoked Kulasekara for a six over long-on.
Chasing 275, Lasith Malinga dealt India with a body-blow by removing Virender Sehwag and Sachin Tendulkar within the first ten overs. As Tendulkar edged the ball to Kumar Sangakkara, a deathly silence took over the Wankhede stadium, and as he departed from the scene, the fact that 'fairytales do not translate into reality' began to echo louder in every fans' head.
But this was a different Indian side. It was no longer over-reliant on Sachin Tendulkar, and what followed in the game thereafter vindicated the aforementioned fact. Brick by brick, Gautam Gambhir and Virat Kohli stared India's revival. Every run was cheered like it was a four or six. The singles were converted into 2s and the occasional bad ball was carted to the fence.
But, just as Kohli and Gambhir were starting to look ominous, an outstanding aught & bowled by Dilshan of Virat Kohli brought the match right into the balance.
And, then came the Master-Stroke. Everyone was expecting Yuvraj Singh to come out to bat, but instead walked out MS Dhoni, and played an innings for the ages.

"I knew most of the bowlers of Sri Lanka as they were part of the Chennai Super Kings earlier. I promoted myself because Muralitharan was bowling at that time. I have played him a lot in the CSK nets and I was confident that I will be able to score runs freely against him. That was one of the main reasons why I pushed myself up the order during the final," Dhoni revealed a few years later.
Dhoni consolidated the run-chase by stitching a crucial 109-run stand with Gautam Gambhir. The duo rotated the strike at will besides nailing the loose balls for a boundary. Gambhir missed out on a well-deserved hundred when he was bowled by Thisara Perera for 97 but Dhoni rallied on alongside Yuvraj to take India closer to the target.
And, as Ravi Shastri said in the commentary box, "Dhoniiiii, finishes off in style", the Indian captain ended the 28-year long wait with a Brobdingnagian six over long-on to send the entire crowd and the country in a frenzy. The dream was realized, and what it meant to every single player was visible from their emotions. There were tears. Happy tears. Tears of relief. Tears of satisfaction. Tears of redemptions. Just pure emotion
In 2007, Tendulkar was contemplating retirement following a defeat against Sri Lankan, four years later, he was being lifted by his teammates with the World Cup trophy in his end, testifying that sometimes, fairytales do come true sometimes.