If you are an Indian cricket fan growing up in the last decade of the 20th century, you would often hear a term that described their team's performance in the longest format of the game- "Tigers at home; lambs abroad". It was true to an extent as India steamrolled every team that came to their shores only to get beaten fair and square when they traveled. That India failed to win a single Test in countries like England, Australia, South Africa or New Zealand back in the entirety of the 90s cannot be solely put down to the lack of ability, but to the absence of the confidence in their own as a team.
That feeling gradually began to change as the 21st century rolled around with Sourav Ganguly taking the helm of the affairs. Sourav may not have won a Test series in England, Australia or South Africa, but his most prudent contribution was to instill self-confidence in the team that not only can they compete in foreign conditions but also win. Consequently, a tied series in England [2002] and Australia [1-1 in 2003-04] ensued before India embarked on their first ever series win in Pakistan in 50 years [2-1 in 2004].
The culture that Ganguly had cultivated in his side continued even after he was no longer the captain as India went from strength and strength to register major overseas wins in years to come.
Today, in this article, we will have a look at 3 Indian captains who have won a Test series in a SENA country post-2000:-
#3 Rahul Dravid, England, [2007]
ImageSource@Getty
The first half of 2007 was one of the darkest phases for Indian cricket. The turbulent Greg Chappell regime had hit its nadir with the team getting knocked out of the ICC Cricket World Cup in the Caribbean.
The marker was out on the future of the seniors and Rahul Dravid's captaincy with criticism coming in from all corners. It is under such tumultuous circumstances that Rahul Dravid and his side landed in England. No Indian team had beaten the English since Kapil Dev led them to a 2-0 win back in 1986, and the task looked even more arduous against an English side that had gone unbeaten at home for six years- including the 2005 Ashes.
The visitors got lucky in the first Tests with rain and bad light denying England a victory after MS Dhoni stitched a dodged tenth-wicket stand with Sreesanth.
Zaheer Khan's [4-59 & 5-75] dominance with both old and new ball underlined India's dominance at Trent Bridge, which they won by seven wickets before a Brobdingnagian total of 664 headlined by Anil Kumble's maiden Test ton at the Oval meant they could not lose the match despite not enforcing the follow-on, to take the 3-match series 1-0.
Post that 2007 triumph, India have proceeded to lose 0-4 [2011], 1-3 [2014] and 1-4 last year, which puts into perspective the magnanimity of the Rahul Dravid-led side's achievement back then.
#2 MS Dhoni, New Zealand, [2009]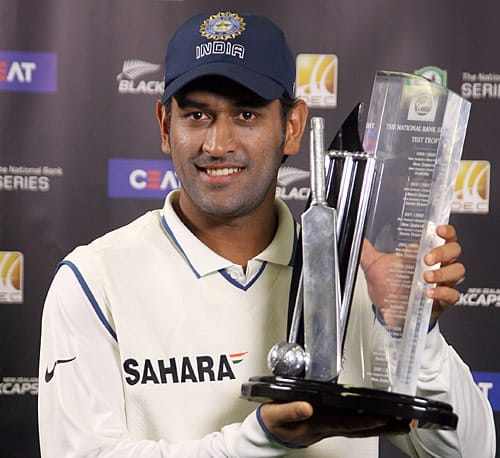 ImageSource@Getty
MS Dhoni has been criticized for India's Test performance- especially in overseas conditions, but it was in his leadership that the Men in Blue defeated the Kiwis in their homeland since India's first-ever visit 42 years ago in 1967-68.
India was steamrolled on their last tour in 2002 on green mambas masquerading as Test match pitches but by the time 2009 had set in, the tracks had become flatter. India, themselves had a potent pace-attack in Zaheer Khan, Ishant Sharma, and Munaf Patel as they bowled the Kiwis out for 279 in the first innings at Hamilton. In reply, Sachin Tendulkar scored a pristine 160 while Harbhajan Singh claimed a six-wicket haul in the second innings to help the tourists take a 1-0 lead in the series.
New Zealand bounced back strongly in Napier on the back of a double-hundred from Jesse Ryder and hundreds from Brendon McCullum and Ross Taylor, forcing India to follow-on. But, Gautam Gambhir, in an act of defiance and perseverance, perhaps played his best Test innings, blunting the Kiwi pace attack in a marathon knock that lasted for almost 11 hours, and along with VVS Laxman's 212-ball stay at the wicket, helped his side escape with a draw.
Indian seamers made merry in the third Test again, Gambhir helped himself to yet another ton and India fell just two wickets short of making it 2-0 before rain intervened on the final day.
#2 Virat Kohli, Australia, [2019]
ImageSource@Getty
Virat Kohli's India had competed hard during their overseas sojourn of South Africa and England but owing to some insipid team selections and the failure to seize on the crucial moments, the No.1 Test team failed at the final hurdle, losing 1-2 and 1-4 in the aforementioned countries respectively.
The final overseas tour of their epic 12-Test odyssey offered India the best chance to win a series away from home, and in a country where their predecessors have failed every time since landing up there for the first time in 1947-48- Australia. The hosts were without their two best batsmen in Steve Smith and Dave Warner but still had a fearsome 4-man attack to test India's batting, and when India found themselves reeling at 4-41 on the first morning in Adelaide, it seems another ordeal was about to ensue. Enter Cheteshwar Pujara.
Pujara, who had been questioned about his strike-rate in the past and even dropped to accommodate the more flamboyant batsmen, played a typical old-fashioned Test match innings of 123 to take his team out of the woods. Courtesy Pujara, India came from behind to win at Adelaide before insipid team selections at Perth made the series 1-1 going into Melbourne.
A change of guard at the top with Mayank Agarwal and Hanuma Vihari opening the innings meant India, spearheaded by yet another patient hundred by Chetshwar Pujara [106] amassed a score in excess of 400 at the MCG. India's pace attack, led by Jasprit Bumrah's match-figures of 9-86 meant Australia were never allowed to come back into the game as the tourists completed a 117-run to regain the Border-Gavaskar Trophy.
A near washout on the last two days at Sydney meant India could not complete a 3-1 win over Australia after yet-another defiant ton from Pujara [193] backed up by Rishabh Pant's whirlwind 159* meant Australia were asked to follow-on for the first time at home since 1988. But, a 2-1 scoreline was enough for Virat Kohli's men to conquer one of Indian cricket's last frontiers.