ImageSource@Getty
Cricket is a religion in India. It is a country where almost everyone is team selector, coach and a cricketer rolled into one. It is a country where you'll see budding cricketers sprawl into the maidans across its length and breadth with only one burning desire- to play for the country. To play for Team India. To don that coveted cap and become the heartbeat of a billion fans. To walk out onto the pitch with the national crest blazing on their chest to win laurels for this beautiful nation. To Bleed Blue.....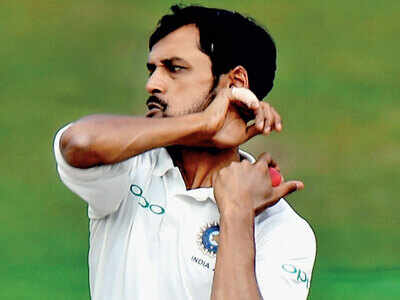 ImageSource@AFP
But, how many people actually get to play for India?
Barely a handful out of the 1.3 billion of us. Who knows it better than Shahbaz Nadeem right now. The left-arm off-spinner from Bihar has done everything expected from a budding cricketer; perform day-in and day-out in domestic cricket. 411 FC wickets. 143 List-A scalps. He has run past opposition batting line-ups consistently; broken the two-decade-long List-A record for the best bowling figures [8-10 which also includes a hattrick] and has had two consecutive prolific seasons where he accounted for more than 50 Ranji Trophy wickets [2015-16: 51 wickets; 2016-17: 56]. Yet Nadeem's name never crops up for national selection.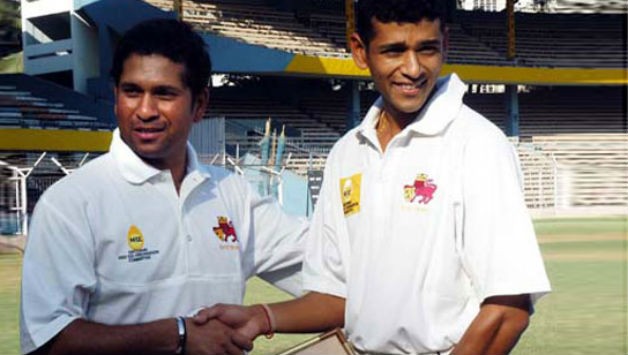 ImageSource@Twitter
And, he's not alone. Throughout the course of Indian cricket history, there have been innumerable instances of cricketers who gave it all they could in domestic cricket, and still never got the chance of playing for Team India. Rajinder Goyal [637 wickets in FC cricket], Padmakar Shivalkar [589 FC wickets], Amarjit Kaypee [7623 FC runs at 54.96], Devendra Bundela [9654 FC runs], Amol Majumdar [11,167 runs including a world-record 260 on FC debut], the list goes on and on and on. For every success story of a Gavaskar, Bedi, Kapil Dev, Tendulkar, Ganguly, Dravid or Kohli, Ashwin, there are tens or hundreds of tales of misfortune, heartbreak and in some cases bad timing.
Bad timing in the sense that sometimes you may not be doing anything wrong from your side but the fact that you are playing in an era where you have competitors to the tune of Sachin Tendulkar, MS Dhoni or Virat Kohli, who happen to be a once-in-a-century type of cricketers, there's nothing much you can do about it. All you can do is keep performing and just wait for your opportunity.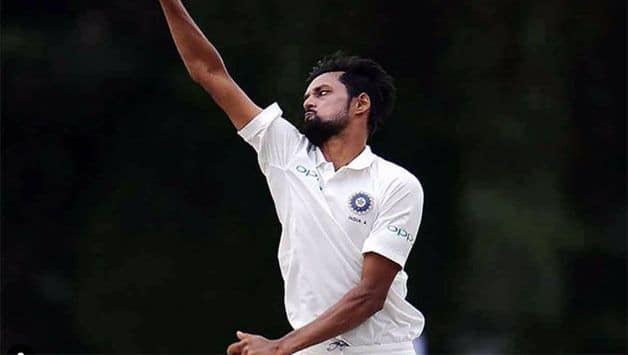 ImageSource@Getty
And, Nadeem, after having been on the fringes of national selection knows it better than most. With India boasting of better spinning options in R.Ashwin and Jadeja in Tests and the wrist-spin duo of Chahal and Kuldeep in white-ball cricket, the opportunities have been hard to come by.
"Only thing I have to do is continue performing and keep taking wickets. That is what I have to concentrate on. To play for India, just performing alone isn't enough. You have to see whether the place you are fighting for is empty. There are many players who have taken dozens of wickets in domestic cricket but haven't got a chance to play for the country. Hopefully, it doesn't happen with me (laughs)." Nadeem said to The Hindu two years ago.
His father says "If it's written in your destiny, then you will play someday for India." but the left-arm spinner believes in the process more than the end result, and in the past week we saw another glimpse of it as he claimed a 10-wicket-haul (5-62 & 5-47) to help India A claim a six-wicket win over West Indies A.
Players like Shahbaz Nadeem are a wonderful asset for Indian Cricket. They may never play a game at the highest level because there are better alternatives available at the time but these guys help towards the robustness of the system. There are many others like the ones mentioned above and needless to say they are all very very important.